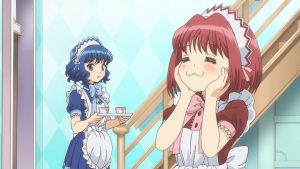 After Ichigo finally gets out of her cat form and joins her friends to defeat the thing at Tokyo tower. Either way, the alien's plans were thwarted, and Aoyama and Ichigo are now dating. I expected this to happen, but at least Zakuro and Mint are canon.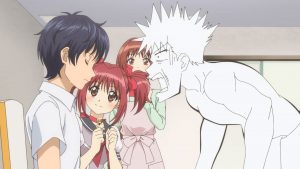 With that, apparently, Aoyama and Ichigo are now dating. During her day at work, Ichigo can't stop talking about it. Also, they are apparently volunteering at an aquarium, which Bu-ling thought it's a date. I guess you can. Of course, Ichigo takes Aoyama to her house, where we see Ichigo's parents see their daughter's new boyfriend. Shintaro makes a big deal about it, while Sakura seems happy for Ichigo. Still, they are pretty loving parents, as always.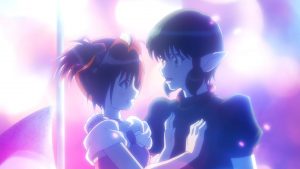 Things are going well at the aquarium, where the staff teaches the effects of microplastics on the ocean ecosystem. Yep, it's nice how they teach the harmful impact they have on wildlife. But, of course, a revengeful Quiche ruins everything. It turns the aquarium fish into aliens for his aquarium retreat with Ichigo. I hate Quiche since he is a creep and doesn't know his personal space. Of course, Ichigo doesn't like him as she fights the aliens and struggles until the rest of the Mew Mews come.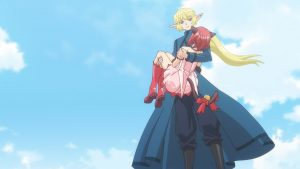 Of course, we see a glimpse of a strange man that saves Ichigo after she defeats a shark alien and is thrown outside the building. I wonder who this "Blue Knight" is. Does the kind of give the Tuxedo Mask? Blue Knight looks like Link from Legend of Zelda vibes as he swears to protect Ichigo's life and kisses her forehead. Ichigo wondered what he was before he vanished. At least everyone is safe as Quiche's plans are thwarted. Although I have to admit, he is very annoying, even from the last season.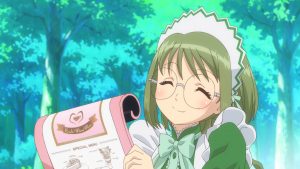 Also, it will be nice to see more of Zakuro, Mint, and Retasu since they are precious.