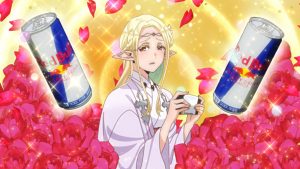 Edomae Elf or Otaku Elf intrigued me since it was a Miko girl looking after a 600-year-old something elf lady named Elda. Koganei Koito, the new shrine maiden, discovers that Elda spends her time doing otaku stuff.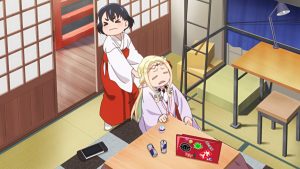 As expected, Elda is quite an amusing elf lady. While she is revered as a goddess. That is after being summoned 400 years old by their ancestors from the Edo period at Takamimi Shrine. Elda becomes a goddess from a promise that she revealed to Koito. The funny thing is that she recently shut herself in the shrine for 60 years after some incident involving a young boy, silly it might be.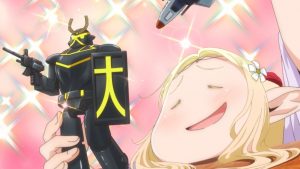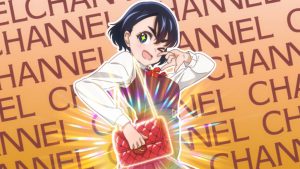 Now, she plays video games, watches anime, reads manga, builds model kits, and even drinks cans of Red Bull. When Koito comes in, she becomes annoyed at Eida for neglecting her duties while begging for cans of Red Bull. While I don't drink energy drinks, I admit that nobody expected them to put Red Bull and Channel as product placement.Also, yes, the Channel bag Koito bag doesn't suit her.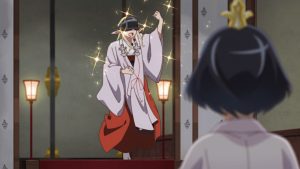 What I find amusing are the offerings that Elda receives, which is everything she likes, including a VR headset, which she is particularly excited about. After Koito prayed, Elda was already wearing and playing with the VR headset. As expected, Koito became upset and slapped Elda with a paper fan. As expected, this scene was hilarious. We know that the old lady in the electronic shop gave it to her so Elda would buy video games from her.
Of course, Koito doesn't seem to like Elda's hobbies. After all, she met Elda after Koito's mother's funeral, and Elda had a different voice than she does now. So after meeting the old lady, there is a desire to get her out of the house. Of course, Koito manages to get Elda out of the house after Elda gets upset at Koito for attempting to put away the kotatsu. Koitsu gets upset at Elda for being a NEET elf and not the stylish one she expected. Regardless, this whole getting upset at each other is funny and silly.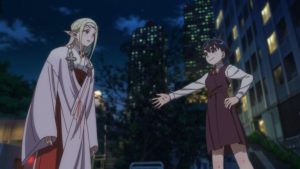 Thankfully, Koito and Elda made up. The funny thing is that Elda's deep voice is due to her cold, and she is not usually this way. As expected, her legs got tired since she spent most of the time in her room, and she realized how much the area had changed. Overall, it's a fun first episode, and I wonder how Elda's relationship with Koito will develop from here.
Other Reviews from Other Bloggers