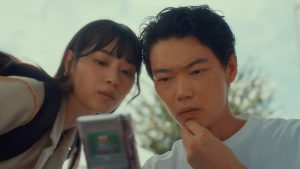 Now that Madoka has managed to mend Kogusuri's relationship with his son, ADVenture is working on a project to revive a market district. However, they must convince the market district president to accept their plan. This seems more challenging than it looks.
As expected, Hiyama was playing Pokemon while waiting for Madoka. Yep, he got to the part where he tries to go to the Cycling Road, where the entrance is blocked by a Snorlax. Yes, there is a story discrepancy about how Madoka got to that Safari Zone without waking up that Snorlax. This only brings more questions. Of course, Hiyama had no idea how to remove the obstacle before Madoka came. Of course, she wanted to help him, but he didn't want her to. I guess he wants to figure it out on his own.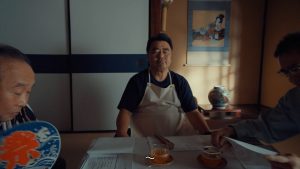 With that comes the meeting with the market district president, Kubiragonzou. The idea is that Nemuro Town can become a new sacred place for fans since a Rugby Team is moving into the district. However, the plan focuses on what adults will enjoy, such as food stalls and bars. However, Kubiragonzou slept through the whole thing. It looks like they don't understand the district's plan.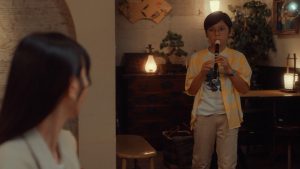 At the bar, Madoka has some French toast as she eventually plays her Pokemon game and takes out that Pokeflute. When she is about to use it on the Snorlax, Sora plays that Pokeflute song on the recorder. It's pretty amazing how he can play it perfectly; it got Madoka's attention. He even plays the Tera Raid Battle theme. Yes, you have to have a plug for the latest Pokemon games.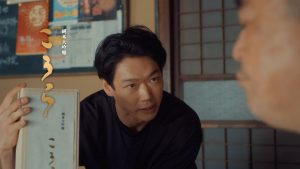 Madoka is on to something. Like with Snorlax, she needs something to get Kubiragonzou's attention, so he wakes up. We know that Hiyama giving some Sake isn't going to catch his attention.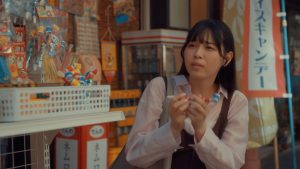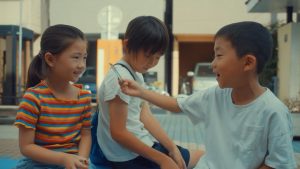 However, thinking about that Pokeflute, she picks up a party horn, thinking it is a flute when kids chastise her for using it without paying. I find it funny how one of the kids believes that Madoka quit her job when she is trying to figure something out for her current job. The candy shop shopkeeper obviously notices Madoka from that meeting. The shopkeeper shows Madoka that at the shopping district, kinds hang around frequently, which is the work of Gonzou's plan (yes, this is the name of the shopping district association president.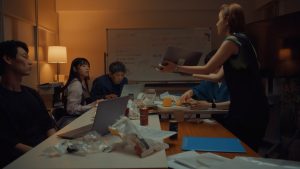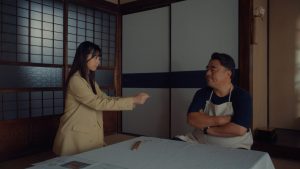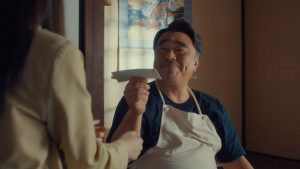 While Madoka eventually used the Pokeflute to battle the Snorlax, it took out almost all of her team. But she realized something after being told about what Ganzou wanted. She returns to the office and tells everyone to work overtime to incorporate his idea. Yes, the newly revised plan after they presented it the next day incorporating amenities for children, he finally woke up. Also, the rugby tickets are the icing on the cake that made him finally wake up. Overall, it's a clever way to depict this episode's client as a Snorlax.
With that, it looks like Madoka breaks out the Game Boy Link Cable in the next episode. I wonder what they will do, Pokémon Battles?