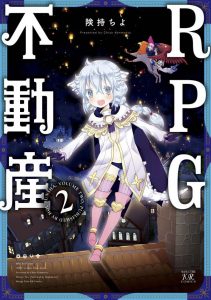 While I read the first volume of RPG Fudousan (RPG Real Estate), it's pretty close to the anime. So let's focus on the second volume.
Author: Kenmotsu Chiyo
Publisher: Manga Time KR Comics (Serialized in Manga Time Kirara Carat)
Original Release Date: April 15, 2020 (Japanese)
Genre: Fantasy, Real Estate
Summary
Kotone and her friends do various jobs. That includes finding housing for displaced residents because of a dragon attack. Also, they help out a secret idol find a secure home, investigate a house full of obstacles, help an over 800-year-old elf girl find a new home, and help a struggling cat hot springs inn.
Meanwhile, Kotone sometimes finds Fa missing when she wakes up and discovers her near the site of the dragon sighting. The question is, is Fa, a dragon? Kotone becomes increasingly worried about Fa going missing and not remembering what happened.
Sadly, a photo of her emerging behind a fire after a dragon sighting makes it difficult for Kotone to hide the truth. That is after Kotone acted strangely, as Fa never showed up to work. She eventually found her right before Rufuria and Rakira were about to get ready to find her. Kotone planned to run away with her and lied to Rufuria and Rakira that Fa was still missing. Of course, they found out after Kotone lied, and the authorities were there to arrest her. Of course, Kotone finds out that Fa is not that dragon, who is attacking, but what is she?
Thoughts
While there is not too much to say about the 2nd volume since it basically follows the anime series (episodes 6-11), although some arcs are in different places. In particular, Kotone's vacation and bringing Fa along happened in the 1st volume.
Still, that suspense of who the dragon is when it's hinted at in the first volume. Is Fa that dragon, especially when a photo of her looking dazed at the dragon's sighting site? Sure, the suspense behind this moment lost some impact since I watched the anime. Fa is a dragon, but not that one, but the one in the song Paula sang.
As expected, the girls help the idol find a home, the subpar cat hot spring inn, and  The Millennium Star Festival was my favorite part. It's cute to see Fa dress up in an "idol" outfit while Rakira had Rufuria try on cat ears which is adorable. Clearly, Rakira enjoyed every moment of this.
Of course, the color pages when Rakira wakes up Rufuria and even lies beside her. Then, Rakira has eye contact with Rufuria as she wakes up, which is cute. That is after Rakira made breakfast. This is probably the closest to them being an official pairing. Also, seeing Kotone try to hide Fa and run away with her and fail as she got found out was funny. Overall, it's a fun 2nd volume as the dragon plot heats up towards the end, and Fa's identity is revealed.
As for the difficulty, it's not too bad at a lower-upper intermediate level of Japanese. However, some non-Joyo kanji are used occasionally, like most Seinen manga, but that is about it. Also, interesting that 飛龍 (ひりゅう) means a wyvern, although it literally means flying dragon.