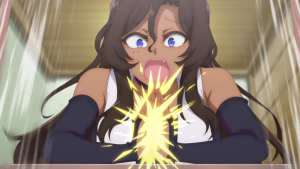 Well, 1 segment for the whole episode that focuses on Alyssa and Viola trying to restore a rose garden. Yes, a butt-shaped fairy named Hip was tasked to restore Anna Fiatoio's garden her father left her. We find out her father is a gardening enthusiast.
Yep, the garden is in this shape because Sweet Cheek, Hip's older brother, doesn't like Anna's new fiancé she is about to marry. It's not terribly attractive, but it looks like Sweet Cheek doesn't like how someone else will look after Anna. Also, he couldn't communicate with her since humans that can use magic can only see them.
Aside from that, it was an okay and straightforward episode. Sweet Cheek concludes that Anna's fiancé is not bad and eventually comes to terms with reality. But still, I think Viola's reaction to seeing fairies shaped like a butt is the funny part of this episode, besides Sweet Cheek throwing a durian at Anna's fiance's face. That does not look like a fairy, even though Alyssa said they can come in various shapes.