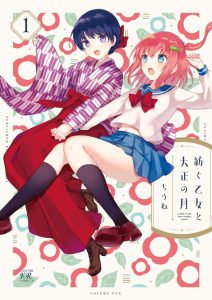 When an article about a certain Manga Time Kirara manga, "Tsumugu Otome to Taishou no Tsuki" (紡ぐ乙女と大正の月) or officially in English, "A Drift Girl and A Noble Moon" chapter is delayed due to some issues, I looked into what the manga was about. Of course, I discovered this is a yuri science fiction manga. Well, time traveling as a girl gets mysteriously transported back to Taishou Era Japan. This plagued my interest, but is it any good?
Author: Chiune (ちうね)
Publisher: Manga Time KR Comics (Serialized in Manga Time Kirara Carat)
Original Release Date: July 15, 2020
Genre: Time Travel, Taishou Roman, School Girl, Yuri
Thoughts
At a glance, the story is interesting. Fujikawa Tsumugu wants to change from being a plain girl in middle school. She attends Sakuragawa Girls' School. Yep, a photo that is completely pitch black after looking at a school yearbook from the Taishou era (sometime in 1921 from 2021) sends her back to that time.
Hilarity ensues as everyone looks at Tsumugu funny because of her school uniform. Tsumugu is attempting to buy something with modern yen, which the shopkeeper won't take, and is accused of kidnapping a girl when she tries to buy something for her. A noble girl named Suenobu Itsuki develops a strong interest in Tsumugu as she feels that she can live the life she wants to, besides making friends with Asahi (who has a massive crush on Itsuki) and Hatsuno, who develops an interest in Tsumugu.
The overall premise of this time travel school girl in the Taishou era is fascinating. I don't cover that many shows, hardly any, but it's interesting to see what the girls learned and did during the time.
Of course, this Kirara title has a lot more yuri than a typical title where you have pairings that look like they might be more than just friends but never advance beyond this. Maybe besides "Sakura Trick," which had actual pairings in a relationship.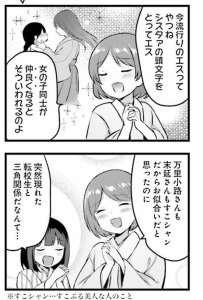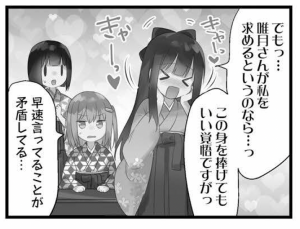 Besides Asahi having a big crush on Itsuki and feels jealous when Tsumugu is with Itsuki and Hatsuno thinking that Tsumugu is an angel descended from heaven and having a strong interest in her, of course, "S"/エス or Class S gets mentioned as there are those relationships as well. With that, there is obviously yuri, a lot more than a typical Kirara title that received an anime adaptation, besides "Sakura Trick."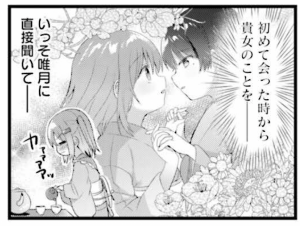 I find Tsumugu's relationship with Ituski interesting. Besides that, Itsuki appears intimate to Tsumugu after saving her. Tsumugu had strange dreams that she was close to Itsuki. After Tsumugu helps Itsuki convince her father to retain her current freedom and let Tsumugu stay, he accepts and allows Tsumugu into the family. Yes, in the 11th chapter, Itsuki and Tsumugu sleep in the same bed for the night. So, they are a pairing now, right?
Difficulty-wise, since this is only in Japanese, it's a little tricky but should be manageable even at an N2 level. Suppose you are looking for a CGDCT time travel Taisho era Kirara title. This might be the one in that case, and the yuri is pretty interesting here.