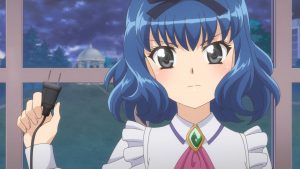 Leaving off from the last time, we see Quiche, Pie, and Tart try to awaken the being inside the "Blue Knight." It becomes apparent what he is as Aoyama/Blue Knight looks like them. Also, Minto finally reveals her identity to her older brother to help stop the air-cleaning airship from going haywire.
As expected, we see Minto's older brother being protective and unwilling to listen to his little sister. I understand how he feels since Minto is still a teenager. He doesn't realize that his little one has the power to stop this from happening.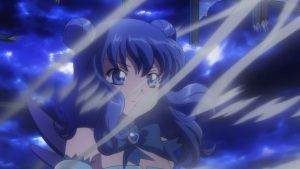 Minto had to pull the plug and transform into her Mew Mew form. It was when He decided to help his little sister out and realized how much she had grown. Either way, Minto managed to eliminate the aliens that hijacked the air cleaning airship. I must admit, it would have been helpful if that existed in real life to clean the haze caused by the Canadian wildfires.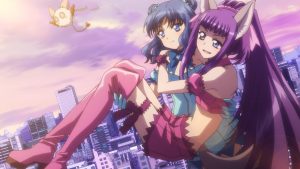 Besides the fight in the sewers and Aoyama/Blue Knight coming to help fight them, Zakuro got hold of the Mew Aqua. With Minto's help, which leads to a lovely scene between Zakuro and Minto, Zakuro uses her powers to clear up the clouds and remove the barrier.
We find out more about Aoyama after Zakuro clears up the clouds. He is apparently an orphan child adopted by his parents and doesn't know his real parents. He did his best to be a model student as he became aware of the existential threat of climate change. He starts to lose faith in humanity until he meets Ichigo, that fights to protect it. It's good that he notices this threat, like most people in my generation and Generation Z.
Of course, we see an argument between Aoyama and Ichigo as he doesn't want Ichigo to help him take Quiche, Pie, and Tart down. However, when Pie and Quishe attack Aoyama in an ambush, Ichigo jumps to protect him, injuring her. With that, Aoyama finally awakens into Deep Blue, which Quiche, Pie, and Tart anticipated. Also, Retasu remembers that vision from Episode 16. Are the so-called "aliens" are really from Earth? We must wait and see next time.