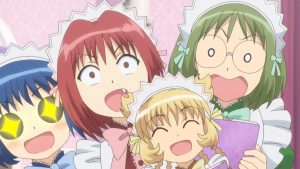 At last, we have the Zakuro episode, as she wants her friends to help her create a music video. She seemed tired when she came into the café and showed them the script book. It's funny to see the reactions of Ichigo, Minto, Retasu, and Bu-ling.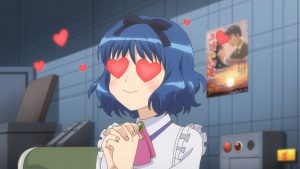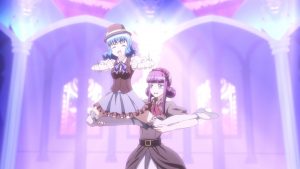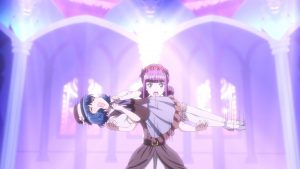 Minto's reaction is interesting since, after all, not only she has a big crush on Zakuro, Zakuro is her Oshi. So, of course, she is going to get excited. It becomes apparent in her turn to record a scene with Zakuro with some dancing. She was excited to perform on the same stage as Zakuro until Zakuro lifted Minto by the leg. After that, she couldn't contain it anymore, which is also cute and funny. Ichigo's, Bu-ling's, and Retasu's failures in the recordings were hilarious too.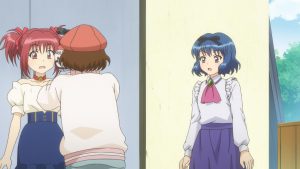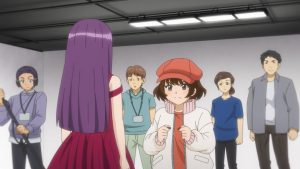 That said, it was interesting to see Zakuro's friends meet Minagawa, who is one of Zakuro's classmates. Minagawa is already up an coming camerawoman and director. Of course, Minto gets excited over seeing her in person. I wonder exactly how many Oshis Minto has, although Zakuro will always be number one. Of course, Minagawa gets upset over scenes not being as she envisioned them.
 After Zakuro revealed that her friends aren't actresses, she changed her tune. Zakuro intended to have them in her music video to reveal her true self. Of course, this is what Minagawa looked for all along. Since she snapped an SD card in half because she couldn't record the true Zakuro, she has avoided recording Zakuro until now. The one she was recording is just the ideal version. Also, Minagawa finds out that Zakuro and her friends are from Tokyo Mew Mew after Zakuro saves her from rabbit Chimera Anima.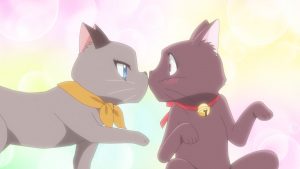 Of course, Ichigo had popcorn on her face during the viewing, and Aoyama ate it. The feelings Ichigo experienced were too much for her that she became a cat. In short, Shirogane had to turn into a cat and kiss Ichigo. Gosh, that creepy big cat is there. Does he know that cat Ichigo is a human? Either way, Shirogane blows his cat identity. Hopefully, Retasu won't find out. Then again, she probably moved on already.