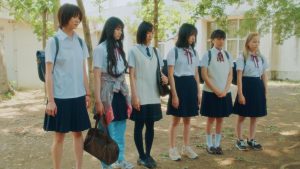 Sadly, when Serufu and her friends leave, the DIY club experiences a considerable setback. However, they don't let that end their plans of building their tree house.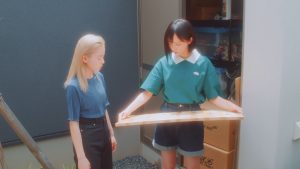 As expected, this episode is almost like the 10th episode. Of course, the interaction between Miku and Serifu when they figured out the idea of collecting unused wood in the house to refill the supplies is shortened. While Miku takes out her wood board, which was from that bench from their childhood. While the girls didn't return to the beach like in the anime, they went around town, finding unused wood they could gather.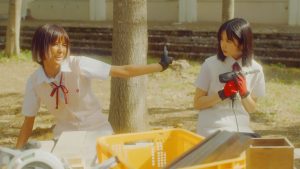 In place of that, we get more of a glimpse of Haruko's time with the DIY club when they decided to build a clubhouse. It's been a while since I saw the anime, but it's more detailed. Also, it's interesting that there is a Mamba Gyaru, Akki. Since that boom happened around 2003-2004, the clubhouse was probably built around that time. Still, it's interesting to see the girls put up the framing for their clubhouse.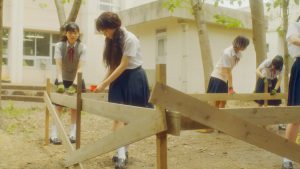 With the house being 23 years old, the show takes place in 2026-2027. This makes Haruko a millennial, like me. Highly doubt self-driving buses/cars will be a thing by then. The live-action only has delivery drones, which is somewhat becoming a thing right now.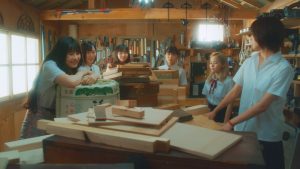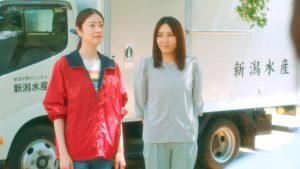 Another big difference is that one of Haruko's classmates, Manatsu, is the DIY's club's first president. Haruko apparently reconnected with her to try to gather all the unused wood the girls could use to make their tree house. It's interesting to see one of Haruko's former club members/classmates, as she was merely mentioned in the anime. Either way, the supplies are gathered. Now the girls just need to build the tree house. We'll see how it turns out next time.