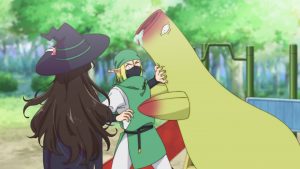 As expected, Elf Boy causes some trouble with Viola by trying to play matchmaker with an Orc with Viola. As expected, it doesn't go well for that Elf Boy.
There's not much to say about the first half. The Elf Boy tries to do some matchmaking with Viola, who is not an elf but a tall witch. As expected, Viola has no interest in this orc besides becoming its friend since he seemed nice enough.
As expected, Viola summoned an Odorigui, which eats the elf boy. Yes, Viola even transported the elf guy to match with Odorigui, who seems to have a liking for him. Viola got a laugh out of this, but it's obvious to prevent the elf guy from mating with Alyssa. I have a feeling that this will become a running gag.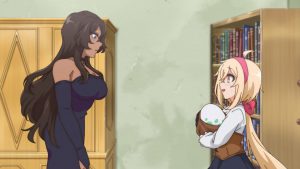 In the second half, Alyssa comes back with an Egg. I find Viola becoming shocked that the egg Alyssa brought back was hers, which is halarious. In reality, it wasn't hers but from some Lizardkin. Of course, Viola is scared to drop and break the egg, but she does hold it after the Lizardkin thanks them. Overall, it's a pretty funny episode.