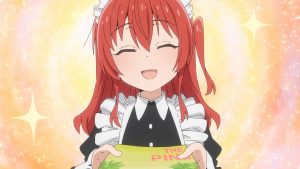 I have this domain sitting here since my failed project didn't go anywhere trying to create an anime community from scratch. Since Sakurajima took over the "Twitter alternative," this domain has been sitting there. Eventually, my Japanese study log moved to this domain, but it didn't fit the "yuri" theme.
Since I'm reading more Manga in Japanese, I would put them here instead of sharing my thoughts on Mastodon. It's primarily because of the character limit. I don't want to adjust it to fit more thoughts about Manga when a blog format suits me better. So here we are. I will make another side-anime blog focusing primarily on CGCT and Yuri Manga. Most will only be titles that are Japanese. I may put manga titles with an English translation on my main blog, but most will go here. My main blog will still cover shows I plan to watch, editorials, and reviews of Japanese-related stuff (along with select manga reviews).
In addition to manga reviews, I will post short anime impressions here. The problem with sharing impressions of what I watch is that posts on Mastodon get buried as time passes. On a blog, it's easier for readers to go back and read my impressions on a particular title well into the future.
On the flip side, this blog will serve as a bridge from the Aniblogosphere to the fediverse. I will have this blog-only ActivityPub enabled. Reading what the plugin does, users on Mastodon, Misskey/Calckey/Foundkey, and Akkoma can reply directly to the post there, which will appear as a comment on this blog. We do block the bad instances like on Mastodon, as the Alt-right doesn't deserve a platform at all. It will allow for more interactions with the readers as they don't have to fill in the comment form just to say whatever they want.
With that, I plan to whip up a temporary header image and finish the design sometime this weekend.
I hope you will enjoy your stay. WordPress Readers can subscribe to this blog soon using the button soon.
You can follow my main account on Mastodon at @chikorita157@sakurajima.moe