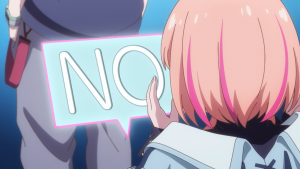 Typically, the shows I usually pick meet expectations, but the first episode of Kizuna no Allele leaves me very perplexed, and I will probably drop it. Kizuna Ai has been primarily on hiatus for a couple of years. Since then, the VTuber scene has evolved with indies and even Hololive coming in. They aren't always about VTubers being idols, as they live-stream video games and talk with the audience about stuff. However, they make songs for Anime (e.g., Jahy-sama wa Kujikenai for one of the ending themes with members of Hololive singing it).
This feels more like an idol show, and Miracle does feel like a cliché-fest. She takes a detour and, of course, sees a handsome-looking guy drinking tea in a greenhouse. Yep, how Miracle reacted kind of makes me want to stop here, but let's give it the benefit of the doubt. She also does a performance, and of course, she tries to ask advice from a prominent Vtuber for a collab just to get rejected.
While I admit that I don't follow too much on the VTuber stuff. I watch some occasionally, and they mostly live stream games and talk about things with the audience from what I saw. But I will probably have to agree with Clare's impressions of the first episode from Beneath the Tangles. It didn't grab my attention besides Ai's performance, which is probably the best part of the episode.
I will probably watch the second episode, but I am not confident it will change my initial impressions.