Community Rules
By participating in this community, there are some rules that users needs to follow. 
Hate Speech/Harassment/Abusive Behavior (Trolling) Will Not Be Tolerated
While Free Speech is important, Hate Speech, Harassment and Abusive Behavior is not free speech. Even if you don't agree with people's opinions, it does not give anyone the right to use hate speech, harass others, or commit abusive behavior. By preventing these kind of speech, this allows people to be able to express themselves without the fear of being attacked.
This clause also prohibits the use of any imagery associated with hate moments, ideologies, and groups. (Confederate states/Alt-right/etc).
If you don't like someone's opinion or can't stand a certain person, use the ignore feature on our forums or on Discord.
TR;DR: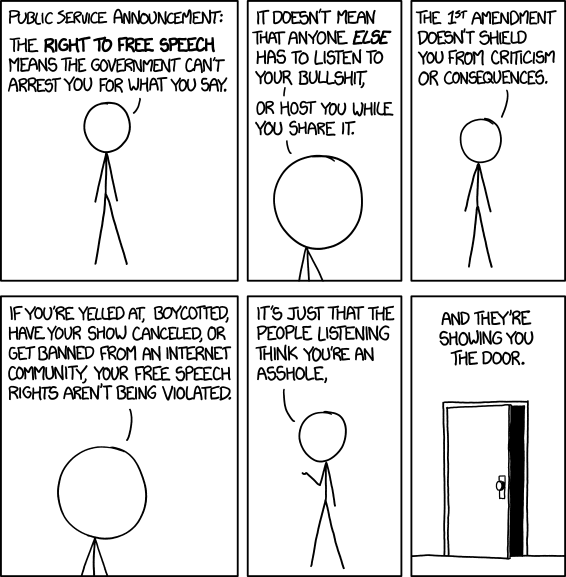 Spoilers must be marked
Nobody likes to get spoiled, especially in anime discussions if someone posts source material content. Please use the spoiler tags.
No Adult Content
Adult content that is pornographic in nature is not allowed as we are a safe for work community.
Posts Should Be Made in the Respective Forum
This is self-explanatory.
Credit Fan-art and Cosplay Photos
Creators work hard on their creations; thus you should always link back the source of the original picture or social networking post.
Do not link to illegal content
This includes fansubs, scanlations, full episodes, etc. Only use legal sources when linking to where to watch or read the media.
No Spamming
Do not post unsolicited messages in our community. SPAM will automatically be filtered by Akismet on this blog and the forums. However, if you own your own Anime Blog, you may promote your posts as long it's related to the discussion.
Punishments
You may appeal the ban if you think it's unfair. Punishments applies to all communities.
First-Fifth Offense – Warning
Sixth Offense – 2 Day ban
Seventh Offense – 10 days ban
Eighth Offense – 1 Month ban
Ninth Offense – 4 Months ban
Tenth Offense – Permanent ban
What if You Find Someone Breaking the Rules?
On the forums, there will be a report link on every post. Click the report button and state the reason why the content a user posted breaks the rules. On Discord, notify a moderator/staff.